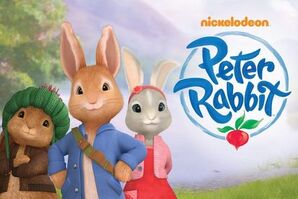 Peter Rabbit is a animated series based on the Peter Rabbit stories that appeared in books by Beatrix Potter that airs on Nick Jr. It premiered on December 14, 2012 in the United States and on December 25, 2012 in the United Kingdom. The show is currently on it's second season and has been going on for a while now.
Plot
Peter Rabbit is an 8 year old rabbit who lives with his mother underneath a tree in a hidden burrow. He misses his father and wants to grow up to be just like him. Armed with his father's journal, which is basically a guide to everything one needs to become a truly wild rabbit, and aided and abetted by cousin, Benjamin Bunny and best friend Lily Bobtail. Peter sets off to make his own mark in life and have adventures even greater and grander than his dad's.
Cast
Main Cast
Recurring Cast
Episodes
Trivia
Lily Bobtail is a new character created for the show, she didn't appear in the books like Peter and Benjamin did.
Unlike the books, Peter Rabbit doesn't wear shoes.
Mrs. McGregor hasn't been mentioned on the show yet, so it's unknown if Mr. McGregor is married or not.
Why Peter Rabbit's father isn't on the show hasn't been mentioned yet, but it's assumed that he's dead.