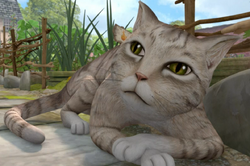 Mr. McGregor's Cat is a Pet Cat Of Mr. McGregor and is also one of the antagonists on the Peter Rabbit (TV Series). Her job is to keep out any animals that try to steal or eat Mr. McGregor's fruits or vegetables from his garden, but always fails at that job due to Peter Rabbit and his friends.
AppearanceEdit
Her fur color is a mixture of both light and dark gray with a white underbelly, paws and mouth and also has golden brown eyes. She is a tabby cat
PersonalityEdit
This is the only animal which does not speak for reasons that have not been made clear in the series. She is the pet guard of the garden.
She is not a Friendly Cat,
Mr Mcgregor normally calls her Cat or Puss.
Her name has yet to be revealed.
Community content is available under
CC-BY-SA
unless otherwise noted.